Little Safe Haven Left for Bangui's Muslims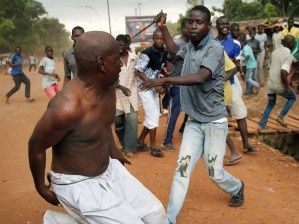 For the Muslims living in the Central African Republic's besieged PK12 neighborhood, the boundaries are clear.
Don't go past the French troops guarding the road to the south, nor too far up the main road heading north.
Danger lurks behind the wrecked houses to the east — there's about nine meters of safety on that side. And no one ventures past the graveyard's freshly dug mounds to the west.
Outside those boundaries is a city that's turned against its Muslim minority.
Escaping attacks by Christian militias on the streets of Bangui, Muslims have fled to PK12 and one other neighborhood in the Central African Republic's capital, where they take refuge in broken down buildings, tarp shelters, or by the side of the road.
On Sunday, PK12's Muslims will finally leave, climbing aboard trucks organized by aid organizations and heading north. Many will cross into neighboring countries, joining the over 643,000 people who have been displaced by this impoverished country's four-month spiral into ethnic and religious cleansing.
"We are happy to leave," said Boubo Abobo, a cattle breeder who spends his days crouched along the road in PK12, fearful of hurled grenades from Christian militias called the anti-Balaka.
"It takes a lot of courage to leave, because here is like a prison."
United Nations peacekeepers are due to arrive in September. But by the time they get to the CAR, neighborhoods like PK12 will be completely empty of Muslims.
Bangui was once a city with 36 mosques, where Muslims ran businesses and lived side-by-side with their Christian neighbors.
But that relationship has fallen apart .Thousands have been killed, and towns in the country's south and west have practically been depopulated of Muslims. Those who continue to hang on do so in enclaves like that in Bangui, protected by troops from a coalition of African Union countries.
Partager cet article
Pour être informé des derniers articles, inscrivez vous :